What Matters Most to IT Managers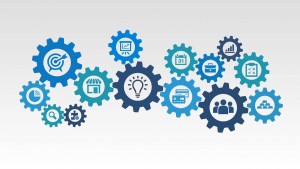 A survey of nearly 2,000 IT decision-makers has discovered IT managers' immediate priorities and imminent spending plans. Interestingly, more than half of the respondents (56%) have a larger budget than last year, with an average increase of 6%.
This year's Computer Weekly/Tech Target IT Priorities survey found that: "2018 is the cusp of the big move to the cloud. Systems management tools are where many expect to be spending this year." Participants were from across Europe, the Middle East and Africa.
The top five IT priorities in 2018 are:
Priority 1 – IT Security Spending
Data loss protection (DLP) is the top security initiative across all areas, with 55% of organisations within Europe planning to implement solutions during this year. This is more than double the number planning DLP initiatives last year.
Email security, encryption and endpoint security, all of which are to be implemented by 52% of European organisations polled, are aimed at improved data protection.
Significantly, planned adoption of encryption – which is widely considered as essential to data protection at rest, in transit and in the cloud – is up 94% compared with 2017. Planned investment in endpoint security is up 68% compared with 2017.
Priority 2 – Datacentre Infrastructure
The report shows that: "Enterprises across Europe are committed to upgrading and consolidating their datacentres for a mix of efficiency, performance and cloud-readiness improvements." Of the 1,875 participants, 29% said their top priority is upgrading their datacentre infrastructure, representing a rise of 44% compared with last year's findings.
Migration to Windows Server 2016 is the biggest planned datacentre project with 30% of participants planning to migrate this year.
Priority 3 – Hyper-Convergence
Hyper-convergence is the term that brings together hardware and software for multiple tasks. Among the 243 IT professionals surveyed in the UK, the proportion that plan to deploy hyper-converged infrastructure (HCI) nearly trebled year on year from 9% to 22%. 
Priority 4 – Storage for Virtual Environments
Results show a 7% increase in the planned introduction of storage for virtual environments compared with last year.
Priority 5 – Flash Arrays
Of the IT managers surveyed, 9% plan to introduce flash arrays compared with 6% in 2017. (A flash array is a storage infrastructure that contains only flash memory drives instead of spinning-disk drives.) Participants are keen to introduce flash arrays' speed, performance and agility for business applications.
Enterprise resource planning (ERP) and customer relationship management (CRM) remain the strongest categories for packaged business applications, with 53% of respondents naming these as priority areas for investment.
Software Development
The report states that: "While most initiatives are down year on year, microservices have grown by 140% to appear in the top five for the first time. More than a quarter of UK IT decision-makers said they would be conducting API-based projects in 2018 (an API is a software intermediary that allows two applications to talk to each other), which suggests organisations are beginning to see the opportunities of developing software around composable architectures that publish external APIs and make use of internal and external microservices."
Eric Hughes of EMH Technology says: "The results of this survey are fascinating. They mirror the practical discussions that we're having with many of our customers. Data – how it's stored, transferred and backed-up – is extremely important to almost every organisation, along with support for business operations – involving both desktop and hardware support. We've certainly seen greater investment in these areas. The most important factors to consider are how your technology aids your current processes and future goals – plus how that technology is itself supported."
Are you reviewing your IT provision and planning for the coming year? Have a no-obligation discussion with the friendly experts at EMH Technology. We'll use our professional knowledge to offer bespoke feedback and ideas for your current circumstances and future goals. Let's talk.