The Business Benefits of Cloud Storage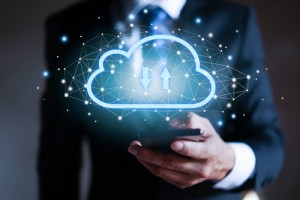 Cloud storage is an online service which enables you to store, back-up and remotely access your data – from anywhere. All you need is an internet connection.
It's flexibility and cost-effectiveness mean that the online storage market is growing fast.  In fact, the cloud storage market is projected to achieve a compound annual growth rate of 29.73% during the next five years (Business Wire).
The number of organisations gaining competitive advantage through high cloud adoption has almost doubled in the last few years (Big Data Made Simple). With this trend set to continue, what are the benefits of using cloud storage?
6 Advantages of Cloud Storage:
Mobility
Being able to access data online from any location gives your business complete mobility. Whether agenda items, travel plans or meeting times change, cloud storage enables you and your colleagues to adapt and carry on working efficiently.
Online storage has been a huge benefit to Decisions Marketing, a Cloud Services client of EMH Technology. "Being able to access all relevant files during meetings and phone calls is a huge advantage, allowing us to adapt and respond quickly," says Dawn Wills of the marketing agency. "Similarly, if plans change – especially at the last minute – we can always use time productively."
Flexibility
Cloud storage works on any device, from any location. Whether you are Mac users or PC-based, a single user or have several employees… online storage will work for you.
Collaboration
Team members can easily share data and collaborate to complete projects even from different locations. Field workers can easily share real-time data and updates with those in the office. In addition, cloud computing eliminates redundant or repetitive tasks such as data re-entry.
"Being able to instantly access and edit up-to-date project information is a big benefit to us," explains Dawn. "With cloud storage, we know that we're accessing the most recent file version."
Recovery
Cloud storage can be used as a back‐up plan by businesses as it holds a copy of important files. This data can be then accessed through an internet connection.
Recovery of deleted files can also be a huge bonus. Have you ever hit the 'delete' button and regretted it? Eric Hughes of EMH technology explains: "We can restore any files that are deleted within your cloud storage system – even to a specified point in time. This means that crucial data and hours of work can be saved if clients are using cloud storage efficiently."
Cost Savings
Storing data internally is more expensive regarding equipment and power. Online storage removes the need for investment in storage hardware.
Data Security
"Properly secured cloud storage is hard to breach," explains Eric. "Storing data on the cloud can be safer than storing it physically on servers."
If you would like to find out how Cloud Services could work for your business – or if you want a solution that works harder for your business, contact EMH Technology.
Email, file storage and backup, antivirus, web filtering, telephones and databases can all be provided regardless of your location. Let's talk.